MySpace - Dave Stewart & Barbara Gaskinさんの新着ブログ記事
Dave Stewart & Barbara GaskinのMy Spaceでのブログに新しい記事が投稿されました。
"New CD and live dates in March" 2009年03月01日 - 日曜日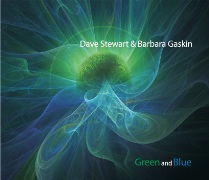 We are pleased (and somewhat relieved) to announce the release of Dave & Barbara's long-awaited new album 'Green and Blue' (nine tracks, 67 minutes). In a departure from style, Green and Blue contains only one cover version. This is the most varied Stewart/Gaskin album to date, combining heart-rending ballads, poppy toe-tappers, lengthy musical explorations and a heavy metal thrash, but the diverse material is united by the duo's trademark musicality. Green and Blue features long-time collaborators Andy Reynolds (guitar), Gavin Harrison (drums), Peter Blegvad (narration) and the amazing Amorphous Choir of Wales. The CD ships in a 4-page Digipak with a 12-page colour booklet containing the song lyrics and a short sleeve note by Dave.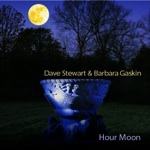 Accompanying Green and Blue is the CDR 'Hour Moon', featuring five bonus tracks, two of which were originally intended for the album. Also included are a cover of a classic '60s instrumental and a version of 'Henry & James' which appeared on a Flexidisc in a 1980's issue of Keyboard magazine (USA). Thanks to all the people who wrote to us about this track! Hour Moon ships in an eco-friendly cardboard wallet with its own artwork and explanatory notes.
The two CDs will be released on March 27th 2009 and can be pre-ordered now from Stewart / Gaskin online store. A limited number will be signed by Dave & Barbara at no extra cost, so if you would like a signed copy of either please order now while stocks last.
Dave and Barbara would like to say a heartfelt thank you to all the people who sent supportive and encouraging messages about the album.
To celebrate the release of Green and Blue, Dave & Barbara are playing three concerts at Tsuki-miru Kimi-omou (lit. 'I look at the moon and think of you') club, Aoyama, Tokyo, Japan on March 20th, 21st and 22nd. They will be joined on these gigs by guitarist Andy Reynolds. (See www.moonromantic.com.)
わぉ、ついに
ニューアルバムについての公式なアナウンス
が出されました!しかも、今回はボーナスCDRが同時に発表です。「グリーン・アンド・ブルー」は9曲入りで67分。見開きのデジパック仕様で12ページのブックレット付き。ボーナスCDRの「アワー・ムーン」は5曲入り。元々「グリーン・アンド・ブルー」用に録音されたがCDの収録時間の制約で惜しくも外された曲が2曲。60年代のインスト曲のカバーに、「ヘンリー&ジェームズ」の昔アメリカのキーボード誌のおまけに付けられたソノシートで発表されたバージョンなど。未発表曲も含まれている。
アルバムは3月27日発売予定で、彼らのオンラインストアでは同じ価格でサイン入りも枚数限定だが用意してあるという。日本では一足お先に、19日から行われるライブの会場で購入できるだろう。とても楽しみだ。